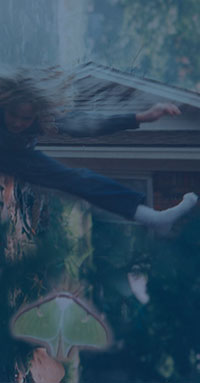 About Parodise
Short story: Parodise is a non-profit website that produces about 4 parodies per month. Long story: I started Parodise in the summer of 2000, when I was first getting a grip on HTML. The original design had a sky-blue background, maroon headers, and yellow text. Itís what David Siegel would label a "first generation site." It was horrible. That was version 1.0. Then, in August, I made the site even more atrocious by giving it a dark blue and purple background, and adding a green navigation bar. Version 1.5. In September, I gave the site a better, more creative navigation bar located at the bottom of the site. I gave the site a makeover, which in my opinion was even more horrible. Version 2.0. Finally, after leaving Parodise to rot for about 3 months, I decided to approach the design more artisically. Unfortunately, my first attempt graphically was produced with HotShots, a free graphics program that came with my scanner. Shudder. So for Christmas, I received Photoshop 6.0. Now look at Parodise. Itís quite a beauty, isnít it? This is Parodise ver. 3.0
Now writing the parodies is a whole Ďnother story. Most of the lyrics you see on this site are written by me, John Holland.

Some are written and co-written by one of my best friends Bryan Mastergeorge. Hopefully in the future you the viewers will submit some of your own. But Iíll keep doiní my best to try and churn out four songs each month, if you keep coming.
I am now going to babble about moi. See this picture on the right? That's me. Actually, that's me with my old haircut. Heh heh. Sucks, don't it? Yeah. Well, that's all.